A normal weekday, two siblings, didi (sister) and bhai (brother), walk hand in hand amidst the crowded, chaotic and somewhat self-centred bunch of denizens. Didi probably around 7-8 years old, bhai seemed a couple of years younger. It was around 8 am and as the crowd of urban area would behave, there was a certain rush in the environment. People all dressed up for work, rushing bikes, kids in uniform and school bags, some opening their shops for business, some fetching water from the stone spouts. Older females with plates (thali) filled with offerings to deities were heading towards the temples. Some young folks in uniforms were drinking tea and complaining about the mundane. Some older lads were also in the corner shop drinking tea, reading newspapers and complaining about the country and the whole system. To my surprise, a lot of tourists with fancy cameras already in action to create memories, some to remember the place, some perhaps to remind themselves how lucky they are not to be living here. There was more your eyes could witness, there were many stories you could hear and tell. But today I want to focus on my didi and bhai couple. Amongst the ruins of temples and houses, yet to be constructed after the 2015 earthquake, patis and shattals (rest houses) with unrestful people, sound of prayer bells and vehicle horns, the white neoclassical palace also under reconstruction, lots of eateries, shops and bargains, there still seemed to exist a time that was still. It seemed that the rush each civilian beared had nothing to do with the calmness and existence of the Basantapur Durbar Square and yet they maintained a sense of harmony. Just like the two little soldiers who found their way into this flamboyant yet modest scenario.
"Public space is the stage upon which the drama of a communal life unfolds." The book Public Space. (Carr, 1992). https://www.amazon.de/Public-Space-Environment-Behavior-Stephen/dp/0521351480.
This dynamic space I believe has to remain calm on itself, as the stage remains the same, only the plays change.
Ragged loose trousers, a black polka dotted pink top, a bit shorter pale outer with orange collar and linings, a fancy colorful bag and a pair of blue ballerina shoes, didi sure looked she could carry any style with ease. Bhai was a bit arrogant in his outlook wearing a tshirt written 'It's all about me!'. Of course to add to the swag didi was carrying an umbrella, black in color and a little crooked.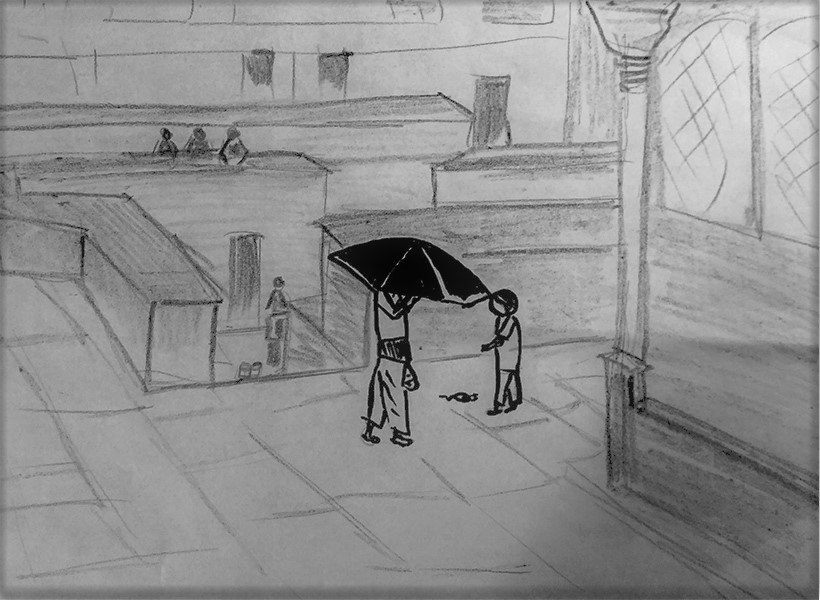 When I saw them the first time, they were amused looking at the ground. They were near a stone spout in one of the squares of Basantapur in Maru tole. Their journey started from there where I followed them, not stalked! What were they amused of? A small mouse! Didi had her umbrella opened though it was not raining. Didi was excited but not as much as bhai. He wanted to observe the mouse, why it was moving, why it was so small, what was it? perhaps he had a tons of questions in his mind but as a researcher with children I could recognise the curiosity in his eyes. The drive that makes you want to learn naturally without anyone forcing you to do so in a closed room, is the best teacher you could ever have. He was so engaged that didi had to hold his hand and take him away from there as if they were trying to reach somewhere and she was in a rush.
Holding hands they moved forward towards the Maru Ganesh through the narrow passage. To add to its narrowness, on both sides, there were bricks to construct new houses and ruins of old traditional houses. On the right side was the reconstruction site of Kasthamandap, which also collapsed during the 2015 earthquake. It is under reconstruction now using the traditional methods. Now didi closes her umbrella which is apparently not so easy to do. While she tries to get hold of that, bhai grasps the side of his sister's tshirt as both her hands were busy. They meet a friend there, just exchange smiles and a bit of conversation and continue along their own path. The pulling of the tshirt was a signal that bhai was tired. The metals from the closed umbrella were dancing as the strings had come off. With that on one hand, didi carried her bhai at the back. Then they continued for a while.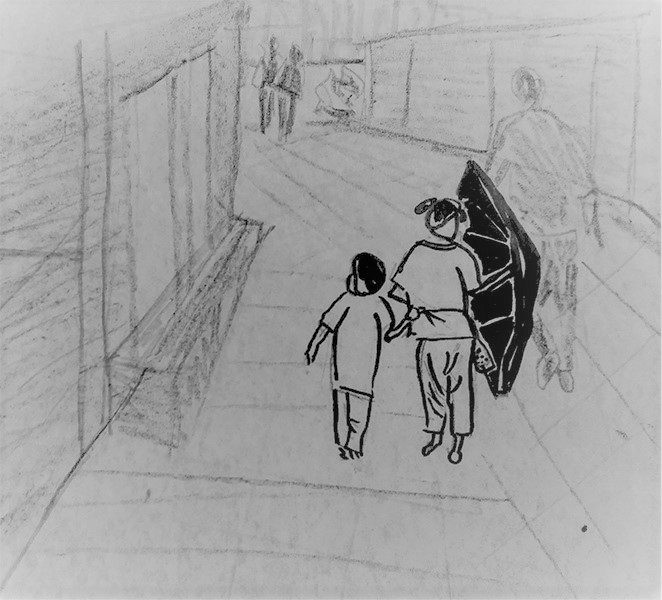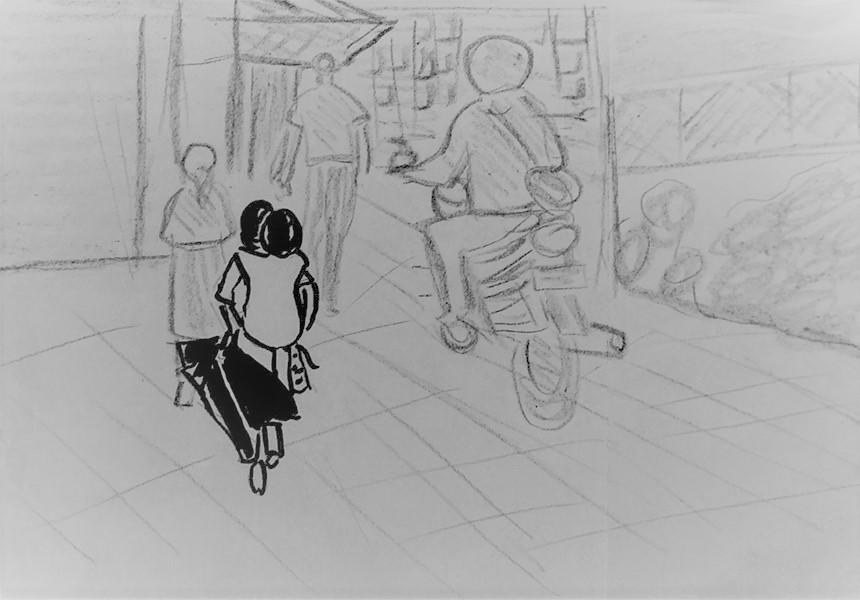 Along the way, they came across ground floor grocery shops, shops to buy prayer materials, street vendors who had shops literally on the path they were walking. They were selling local produce like saag (mustard leaves, spinach), spices, fruits and many things. When they were near one of the vendors place, bhai came down from his sister's back and stopped there. Without a word, the vendor gave him one of the fruits he was selling, he took it and walked along eating it. There was no exchange of words, just the gesture. Looked like this happens everyday. How can you define this human relationship. This is so special. Then they continued and reached the Maru Ganesh. Outside there were devotees with plates full of offerings for the Ganesha. There both didi and bhai got some prasad (sweets offered to God). They also put tika (red colored blessings) on their forehead by themselves. Bhai had some sweets in his mouth, a handful in his pocket. Now they had to cross more ruins, more construction sites with bricks laying all over, wooden planks everywhere.
They are now already at the centre where all the area is paved with stone. It looks like a pedestrian prioritised area but practically it was full of vehicles. Of course they were not going very fast as there was no space and also pedestrians would be given more preference in such areas, but their noise and disturbance was felt. Among the vehicles were school vans, motorbikes, four wheel drives, taxis on standby and rickshaws. From this durbar (palace) square we were moving towards the Swetabhairava and reached the square with Pratap Malla's statue. This square is always so interesting because of the pigeons. There are always a lot of pigeons on the ground, on top of the temple roofs and everywhere. People feed them and chase them and take a lot of photos with them. Apparently my didi was not so much impressed by this. Bhai went inside the pigeon gang and started playing as everyone else was doing. Didi just waited for him.
Bhai I think was around 4 years old. Didi may be around 7-8. It took me by surprise how bhai was interested in everything and didi was not much impressed by anything. She was more taking care of her bhai than enjoying her moments. May be she has done all that and she doesn't enjoy it anymore, or she is more into taking care of her brother because she was asked to do so by her parents. It could be anything. But I wished she also enjoyed this moment, she also chased the birds once in a while, she also did the same as a kid of her age would do. But she just stood there waiting for her brother to come back so that they could continue their journey. Perhaps she was just being the responsible older sister. Perhaps she enjoys her time when she is free with her friends. After that they crossed the Taleju mandir (temple) and headed towards Makhan tole and disappeared from my sight.
Leaning towards the railings of her balcony, looking across the street view of a house inside a housing complex (a gated community), she could view many other houses same as hers and no one on the street. A car passed once in a while, while she yearned for some excitement. The housing complex was situated on the periphery of the valley, away from the chaos of the city life, well above the valley overlooking the haphazard city. You could view mountain range from here. Built to give almost a traditional look with dachi appa (Newari traditional bricks), the houses seemed to be in harmony with each other. But they lacked the basic concept of Newari architecture, the courtyards and the squares where the communal activities would take place, where children could play together while elderly could pray and share their stories. Also the streets those created opportunities for human interaction were used merely for cars. Perhaps for an eight years old girl, it was the best any parents could give in terms of physical comfort. Her toys inside her house in her playroom were waiting for her to come back. She also had a small private garden in her front yard but no one to play with. She just stays there looking, perhaps waiting for something to happen. Waiting for some stories to be made, so that she could too tell her grandchildren about all the adventures she had when she was a kid. But her life is made too perfect for that.