When I think about it now, maybe I might have escaped this trip if I had gone to Phuket for just few days to explore some beaches and the night life there. Luckily, I was there for a month, of course, I had some extra days to mingle around. I somehow, from the beginning was interested in this old town because for me, architecture speaks out loud with these beautiful old settlements more than any fascinating buildings around the world.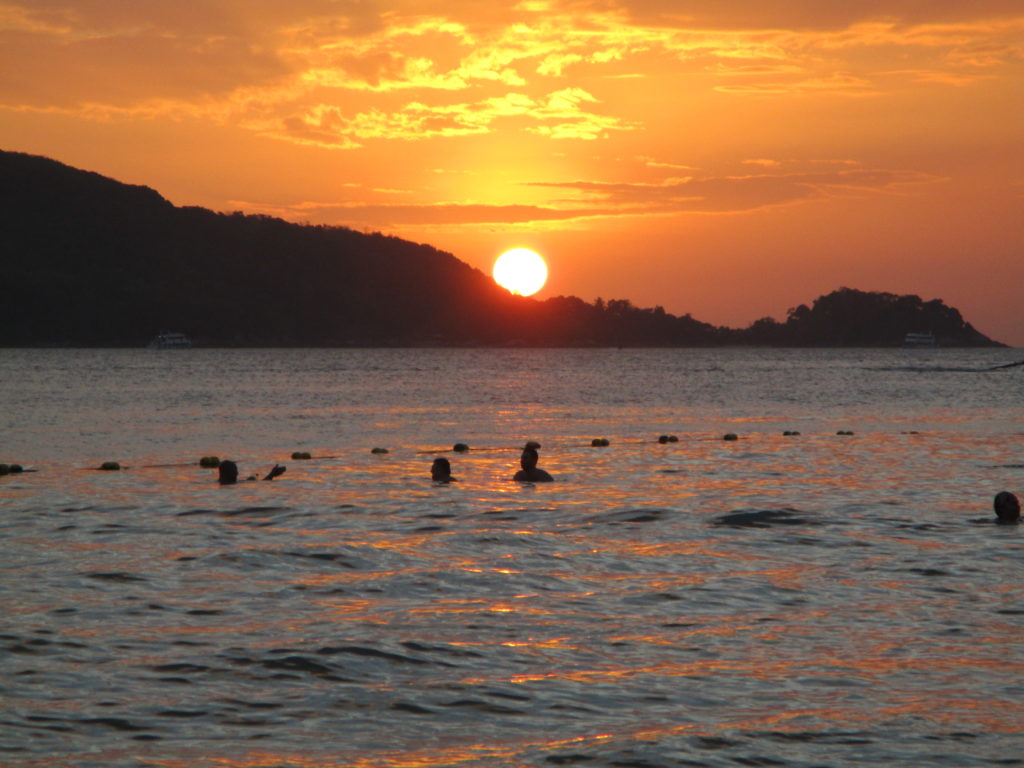 The ride from Patong beach to the old Phuket town was already promising. Furthermore, sightseeing in different locations of Phuket, the Wat Chalong temple, Big Buddha, Promthep Cape are sights worth mentioning.
Let me share with you a short story before that. It is very easy to travel around in Phuket by scooter (motorbike). If you are staying there for a week or more, it is actually a very convenient and cheapest way to get around. That's what we thought when we planned our trip to Thailand from Germany. In Bangkok, it was easier to reach most of the places without getting stuck in traffic with the metro line. It was very convenient, and the AC worked well. But, in Phuket as we were thinking of staying there for a month, we thought we will rent a bike. As we are used to going around in Kathmandu in our motorbikes we found that a very good option. Having said that, after a few days in Phuket and few consultations at the bike rentals as well as with the owner of the resort we were staying in, we finally decided to rent a bike for the remaining days. This would mean that we could go around anytime anywhere. We talked to the bike rentals which had the best option, we wanted a lighter bike so that I could ride it as my partner's license was expired and we could only renew it when we were in Nepal. We came back to our resort, I suddenly instinctively decided to check my wallet and there you go, my license was not there. I brought a travel friendly wallet with me for this trip and I realised that I had left my license in the old wallet back in my apartment in Germany. Welcome to the world of surprises!! It was so annoying that we had to change our plan again to adjust to the 'no license mode'.
This is how we ended up going to the old town in a bus. But I won't say I regretted it. The bus was with open windows so we could get some natural wind flowing in from between us. The ride was fun with around 15 more people, mostly tourists, eager to visit the old town as well. Few of them took off in several other places like the way to go to Kalim beach, some shopping malls in between and so on. There were few school children also in the bus, probably returning home after school. There was an old lady, very old, she could not even stand straight but she was travelling alone and there were few other locals who were chatting with her and helping here. It was a quite an interesting ride. When we reached the last stop, the old town, there were still two more people in the bus. We asked them if this was the last stop, they did not know, and they did not know English as well. They looked a bit lost themselves and it was hard to communicate with them. Then we asked the driver if this is our stop, he said yes and he also told us what time is the last bus to return and where it comes. And we were very thankful to him.
Phuket being a bit hilly with its landscape, the roads had a lot of twists and turns. The roads were narrow and sometimes, the bus had to wait a long time in the traffic to get through. At that time, there were many bikes passing by us and then again we thought, oh no! why did I forget my license. But when we were returning back, we saw an accident and many bikes lined up on the road and the police were checking their licenses. Apparently, there was a collision between a bike and a bus. When we talked to the passenger next to us, he told us that there are many such accidents happening on this way as the bike riders are speeding in the curvature makes it difficult for them to control once the centrifugal force starts acting upon them. Alas, we were thankful that we did not rent a bike. I am not a kind of person who is so scared and afraid of taking risks, but this was a different scenario altogether. We did not know the road, we did not know the riders there, we did not know the traffic. I mean even if we drove safely, we cannot guarantee that there won't be an idiot in too much rush and too much in need to show off overtaking us in a turning where it is impossible to control the force radiating from the centre.  We would have definitely rented a bike if we had license and drove safely but not being able to do so also left us with no regrets.
Wow the old town! What could I say about it! A perfect blend of art and architecture. A mixture of Portuguese building form and Chinese art that decorated the beautiful proportion of two storey and one storey buildings. They call it Sino-Portuguese architecture. Portugal had invaded many countries in the past, mostly South America, India and Africa. But in this place, it was not invasion, it was pure trade. They came to Phuket old town for business.  I will write more about the history, architecture style and mixture of how it all happened together and created a magical town, for now I would like to add some more regarding the travel options and experience.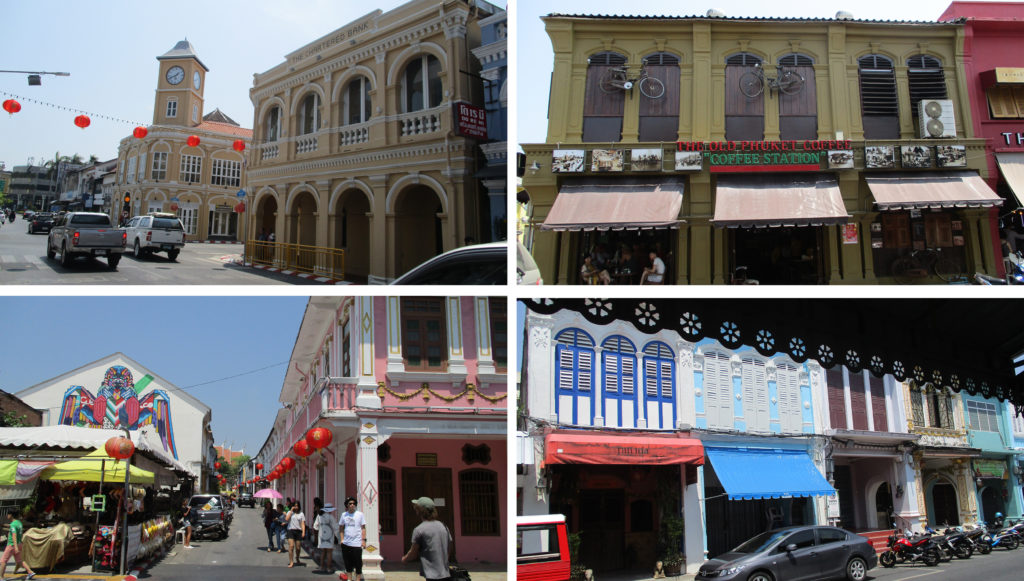 There is also Tuktuk, which you must try once when you are in Phuket. Tuktuk is better when you are in a group of 5 or 6 people. There was also a van where you could reserve a seat. This was mostly helpful for going to the airport and if you are alone or a couple. Instead of taking taxi, you could book a seat there, and they come to the place where you live to pick you up. There are many people going around in Phuket in bikes, tourist and locals equally. It is always the cheaper and efficient option. Even if you are staying in one locality you can easily go to others as the town is very small and compact. Taxis are a bit expensive for a single journey. But if you decide to rely on taxi, you should take it as we did. You should hire it for a whole day. One day we went for sightseeing to other places around Phuket. Like I mentioned before, you should not miss this as well, some of the temples there, for example, Wat Chalong was very intriguing. You could also go to the Big Buddha. Though statue itself is not so impressive, the view from there overlooking the Phuket town is beautiful. The huge statue built legally in national conserved forest in somewhat a very new addition to the town. You could check out this website for details.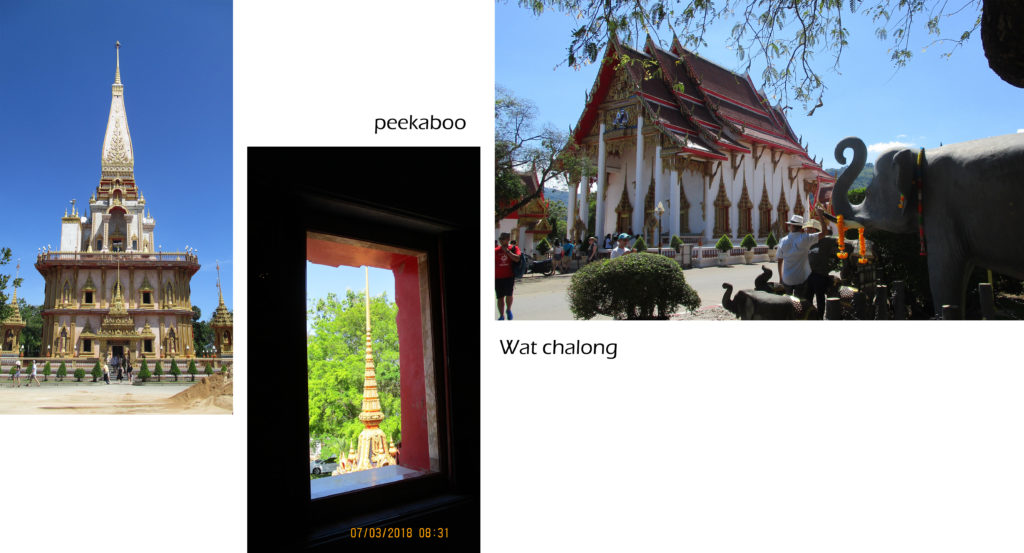 Also, worth mentioning was the Promthep Cape which I would suggest you go in the evening to see the beautiful sunset that everyone claims mesmerises your senses. Though we reached there during the day and we had to leave before the sunset, still this place with the captivating views and connectedness with the ocean made each breath as magical as the blue water indulging its pretty land. Fun part was there was a couple having their lovely wedding photoshoot.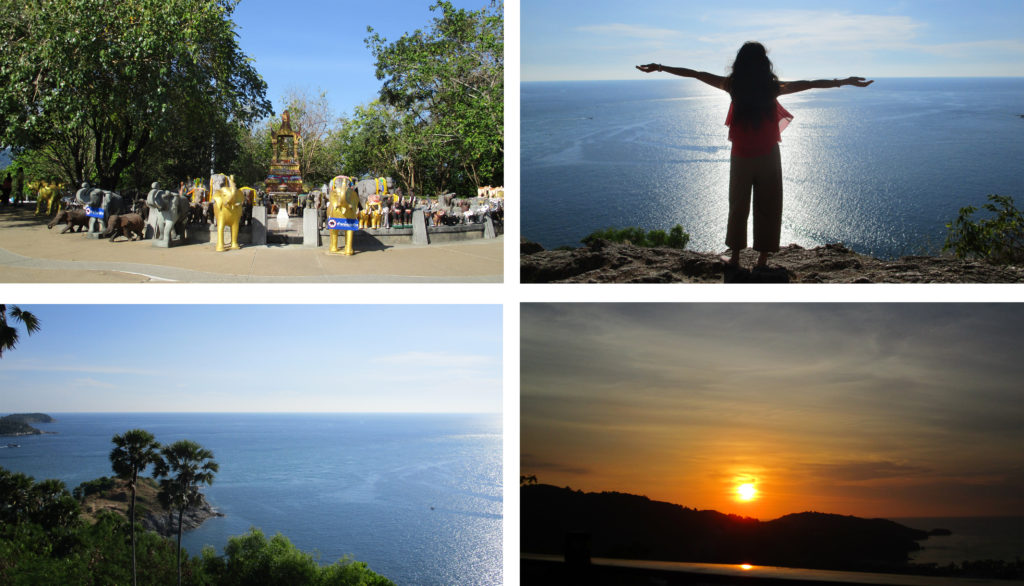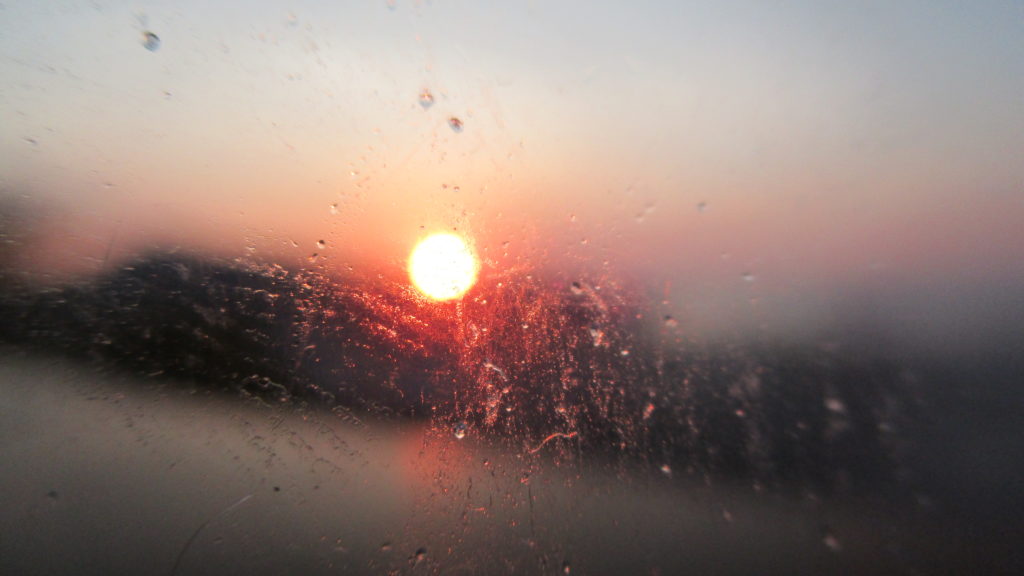 Ps. this trip was made in the starting of 2018. I wish I could go there again and get lost in the ocean and views.