Simplicity has great value. I feel comfortable going to places which do not stand out but lets you blend in with them at your own comfort. One such place in my city Patan, also known as Lalitpur is Pulchowk Stupa. It is one of the four Ashoka Stupas of Patan (oldest city in Kathmandu Valley), which marked the ancient boundaries of the city. At the time these Stupas were built in Patan (250 BC), the city was flourishing with Buddhism. Today still, we can see a unique blend of Hinduism and Buddhism in this city which cannot be experienced elsewhere in the world.
At one time, this Stupa was marking the boundary of Patan. Today it stands along the confused infrastructure of streets and buildings, dominated yet screening its own existence.
I pass through it many times, uncountable. It is on my way to work, my way to my relative's house and many other locations. But yesterday I went there as a visitor and not a passer-by. I went there to see and look around just as I do when I go to other cities as tourists. Here began my architecture journey again to share with you. From the border of Kathmandu and Lalitpur, after crossing the Bagmati bridge of Thapathali, this place is at walking distance, you just have to keep on walking the main street but one can easily find public transport if you cannot walk around 15 minutes from Kopundole, the border of Kathmandu and Lalitpur.
Always visit a city as a residence, not as a tourist. Then only you can tell if it is an interesting city or not. I discovered this when I went to Sarajevo in Bosnia and Herzegovina for two weeks this year in March. The city looked nice and promising at the start. But when I visited each new place and explored its history for the many days I stayed there, I was mesmerized by its beauty. So, whenever you go to visit a city, try to explore it a little more than just seeing the monuments and tasting the speciality of that place. You will witness a whole new perspective.
The form of stupa gives a passer-by a feeling of contentment. The very form of Stupa symbolizes five elements earth, water, fire, wind and space, which is represented by its cubic base, dome-shaped mound, triangular conus, calyx and the top flame respectively. But unlike the big Stupas of Kathmandu valley namely Bouddhanath and Swayambhu (which are also in UNESCO world heritage), this small mound of earth covered with bricks and then overgrown grass does not give a feeling of extravagance. When you look at it from far, it is almost surrounded by buildings taller than it and overhead bridge. On its diagonal is a newly constructed modern building complex and opposite to it towards the street is municipality office of Lalitpur. These structures though functional and logical in their own space somehow make the physical form of Stupa not so dominant. But what is it that makes this structure stand out?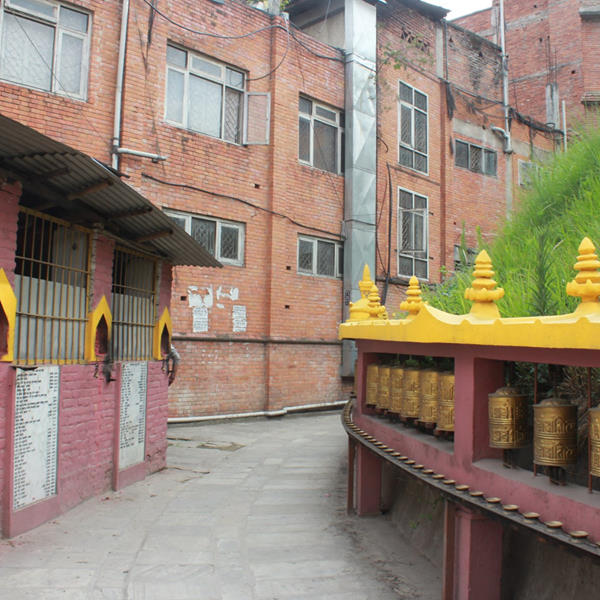 The first answer to it would be the religious belief of the worshipers and devotees. This brings positive energy to the people passing by it. As I approached its few steps at the entrance for circumambulation of the dome, I realised the inner peacefulness. In spite of the disturbance from the street, surrounding houses and parking spaces around it, once you step on its premises, it lets you enjoy its simplicity and when you look at it from bottom up, you see the five elements in its form taking you to the stage of the void. Looking at it from very close from bottom up shows the form of the dome to be converging and taking one to the stage of void through the central point where the dome converges into the conical conus and then to the nothingness and void which touches the sky. The prayer wheels which you rotate as you make a round around the dome are a precious delight. There is also a place to light candle below it all around which is normally lit in the evening. The combination of these two elements, the bells and the light standing below it gives an intricate detail to the form of a dome. And to my surprise, all the dominating structure around it did not exist and were out of view once I was inside its narrow alley to pass around it. Trees also made a huge impact in making it separate from the surroundings blocking the view of the cityscape. The beautiful sight was few children playing around the corner in the small streets near the stupa making the place livelier.
This beauty I visited yesterday, was in its full-fledged form as the air around it was also clean due less vehicle movement because of a strike. The sky appeared bluer giving its form more shape. This is one of the very few open spaces we have in our city. It is providing some space for its dwellers to breathe, to feel peace and to feel proud of the long history it carries with it. I used to come here more often when I had time. I am so happy that I decided to go there yesterday, it made me realise what I was missing, a feeling of peacefulness and bliss. More such places in your neighbourhood give you more opportunity to socialise and understand the city's culture and activities.
Explore the areas in your neighbourhood and share with me. Try to find out about its history and today's ambience. I am sure you will find more aspects to cover the reasons for existence.