Can you tell if a design is good or bad just by looking at a building or seeing a mesmerizing bridge from a distance? If yes then I would believe that you are the God of architecture. But for my understanding, the design is something with intention a bit more than just aesthetics. Form and composition, colour and texture might add up to what makes architecture but without fulfiling its function, it is not worth. A bridge is already a fascinating sight as long as it rightfully makes the users pass from one edge to the other. The structural details needed for it already gives it a beauty that no other ornament can fulfil. However the cases of railings of most famous bridges in the world, they get different kinds of lock, love locks, luck locks, birthday locks and what not. Do these add beauty to the existing structure or just additional uncalculated dead load? Let's not worry about it now. Let's just talk about the existence and beauty of such bridges.
Have you ever gone to the middle of a pedestrian bridge over a huge river in the evening and seen the sunset just below the horizon right in front of your eyes? Well, I have and I must say it is a spectacular sight.
It was February and suddenly we decided to go to Salzburg one weekend from Munich. The sudden decision was not bad at all because it is very easy to travel around Europe from one place to another, the connections are excellent. From Munich to Salzburg was just 3 hours in the train and the three of us reached the beautiful sight of Salzburg.
It was one fine day, was definitely not summer, because we had our winter jackets on but luckily we found a sunny day in starting of February, not very usual during that time. First we decided to visit the castle (Hohensalzburg castle), on top of the hill. The view of the city from up above was amazing. But one more view towards the south, down the hill, was even more spectacular. What was it? Simply a grass lawn, very huge with two diagonal paths crossing each other. One small hut somewhere near that crossing and some, very few bicycles passing through it. Then I was thinking, if I belonged to this city, I would travel this path in my bike every day, on purpose or even without any purpose. It looked that promising. After that we visited a garden (Mirabell Palace garden), which was supposed to be one of the best tourist spot in Salzburg. But I was not so much impressed with it. It was a well maintained garden with seasonal planting which made it dull during the season we went and few ordered seats were there which did not give a welcoming feel at all.
Then we decided to move towards the bridge (Makartsteg Bridge) over the Salzach river as it was our last destination for the day. We had already went passed it during the day when we went from Hohensalzburg castle to Mirabel palace. And we decided that we will visit it again before we leave. Beautiful, mesmerizing and it had to be evening. Luckily we decided to stroll around the river in the evening. This spectacular view was only possible when the sun is just about to say goodbye for the day. Once I started walking in solitude, it gave me peace from inside. The warm breeze in the evening gave the fragrance of existence of a history which made this place at this moment extremely special. As the name suggests it was named after a 19th century painter Hans Makart who was born and raised in Salzburg. More than that, it is now ornamented with modern tradition of locks in the railings. This gave the bridge a new perspective. The positive energy of locked bonding through the metals proved the existence of love and faith people have. And the continuous sound of Mozart, which was playing all over the city and could be heard even from the bridge, took it a step further. When I was standing in the middle of that bridge, it gave me happy feeling of smiles and trust but it also made me wonder, how something which is out of intention in design can have influence of this level that people who are using certain space and elements have the capability to change its aesthetics and change its architecture. This is the strength of the combination of architecture and people.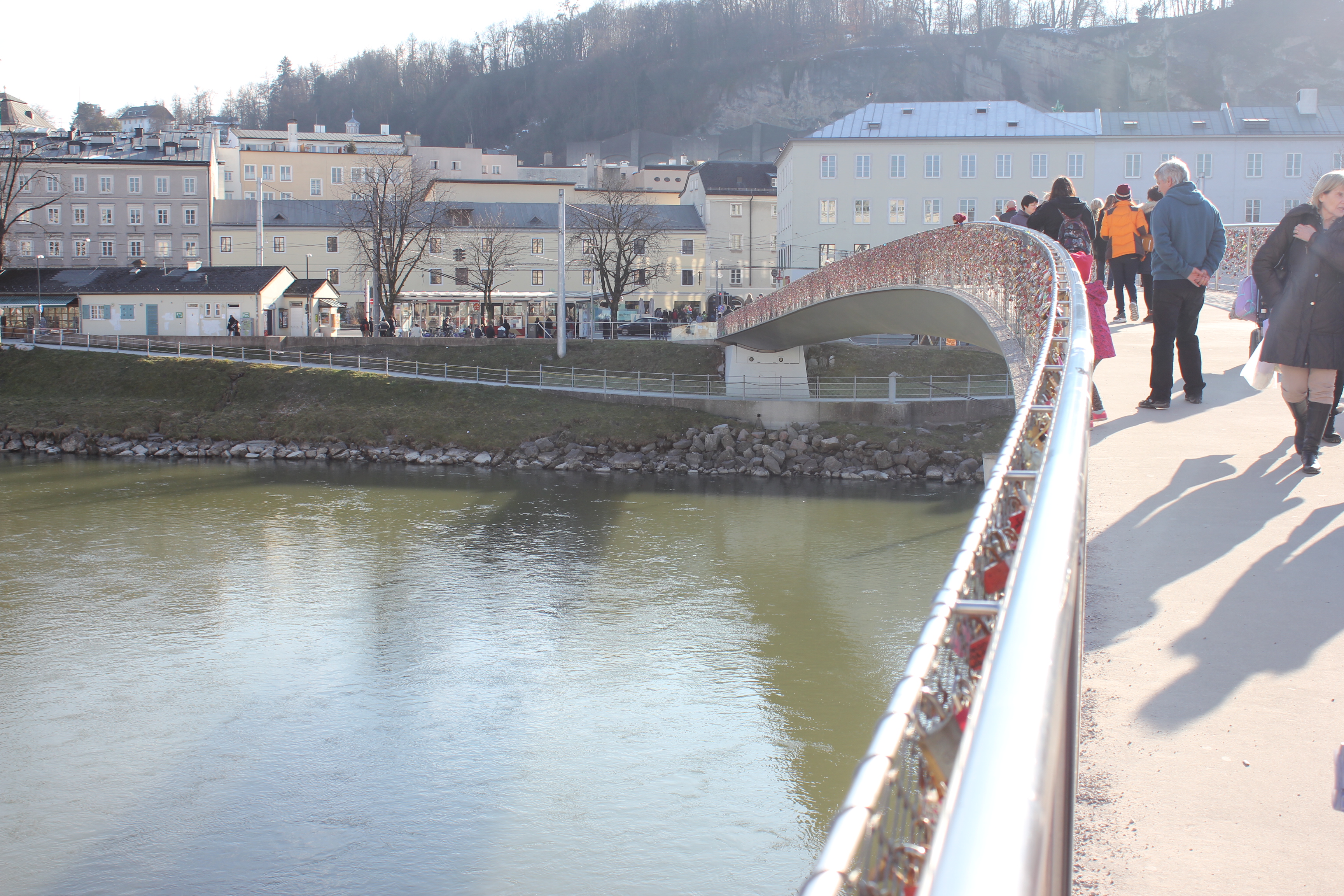 Monumetalisation of architecture is no more a fancy. Today's architecture is more people focused. People want to decide what they want and not be told what they should want. If something is out of their own will they will respect it more. Hence architecture should speak people's mind, architects must be able to translate the ideas into architectural being, which they can experience.
This pedestrian bridge rebuilt in 2000 is one of them. This simple form of architecture doesn't dominate the existence of its surroundings. The spectacular view of the Alps from the bridge and also through the bridge mesmerizes your senses with the blend of manmade and nature in harmony both complimenting each other. The low curve of the bridge gives frame to the Southern Alps and the Alps giving the bridge a picture perfect background. And when you start walking in this pedestrian bridge you see the curves getting curvier and the colourful locks delighting your way through. This is where people decide to stand, look around stroll and take photos to capture the beauty. As you walk through the bridge the curves start getting curve less, the lines appear straighter and the locks in the railings start appearing more distinct, each one with this specific character rather than a colourful mass which appeared when we looked at it from a distance. The bank of the river made its smooth transition from concrete to grass to stones and water. This tempting view from the bridge makes you want to go and lay down on the grass or lean down from the stones to reach the fresh water. Unfortunately, I had no time to go down there and rest as we had to take a train soon. But I promised myself I will visit again for that pleasure of laying on the grass.
It was surprising to discover that the tradition of attaching locks onto the bridges started in 2008 following the custom traced in 2006 novel 'I want you' by Frederico Mocia. And now we can see this tradition in many almost all the bridges in touristic areas. Influence of certain things can drive people crazy. I believe architects must enhance the positive influence into the daily lives of people so that communities and societies can become better altogether.
For me I will visit Salzburg again, just to sit in the bank of Salzach river, just to walk on the Makartsteg bridge, to feel the bridge and to watch the setting sun, to discover love and life one more time and to understand pleasant moments are to be felt not created. This time this day, the setting sun said goodbye to me. Of course, it also said see you soon, hopefully I will see you soon!